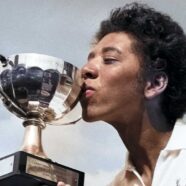 Mar

31
Tags
Related Posts
Share This
Althea Gibson Wins the Caribbean Championships
The Influence of African Americans on March 31: Honoring Black History
March 31st is a notable date in Black history, with significant events and accomplishments that have profoundly impacted our world. In this article, we explore the most influential moments on this date, paying tribute to the contributions of African Americans in civil rights, sports, and the arts.
Jackie Robinson: Breaking the Color Barrier in Baseball
On March 31, 1945, Jackie Robinson signed a contract with the Brooklyn Dodgers organization, marking a pivotal moment in the desegregation of Major League Baseball. Robinson became the first African American to play in the league since the 1880s, breaking the color barrier that had been in place for over six decades. In 1947, he made his debut with the Dodgers and went on to have a legendary career, earning numerous accolades, including the first-ever Rookie of the Year award and a spot in the Baseball Hall of Fame.
Althea Gibson: A Trailblazer in Tennis
Althea Gibson, an African American tennis player, was born on August 25, 1927. However, on March 31, 1957, she achieved a significant milestone in her career by winning the prestigious Caribbean Championships in Kingston, Jamaica. This victory marked the beginning of a stellar year for Gibson, who went on to win both Wimbledon and the U.S. Nationals, becoming the first African American to win these titles. Her accomplishments paved the way for future generations of Black tennis players, including Arthur Ashe and the Williams sisters.
Civil Rights Movement: The Chicago Freedom Movement
The Chicago Freedom Movement, one of the most ambitious civil rights campaigns in the northern United States, began on March 31, 1966. Led by Dr. Martin Luther King Jr. and the Southern Christian Leadership Conference (SCLC), the movement aimed to address racial segregation, discrimination, and economic inequality in Chicago. The campaign lasted for more than a year, with protests, marches, and negotiations leading to the signing of the Chicago Summit Agreement in August 1967, which sought to improve housing conditions and job opportunities for African Americans in the city.
Conclusion
As we commemorate the powerful moments and achievements of African Americans on March 31st throughout history, let us remember the incredible contributions and sacrifices made by these individuals. Their impact has helped shape our world, fostering progress, equality, and justice for all.
Bibliography
Ashe, A., & Rampersad, A. (1993). Days of Grace: A Memoir. Alfred A. Knopf.
Burns, K. (2016). Jackie Robinson. PBS. Retrieved from https://www.pbs.org/kenburns/jackie-robinson/
Gibson, A., & Curtis, R. (1958). I Always Wanted to Be Somebody: An Autobiography. Harper & Brothers.
King, M. L., Jr., & Jackson, J. (1967). The Chicago Freedom Movement: Martin Luther King Jr. and Civil Rights Activism in the North. University Press of Kentucky.
Ralph, J. (2011). Northern Protest: Martin Luther King Jr., Chicago, and the Civil Rights Movement. Harvard University Press.