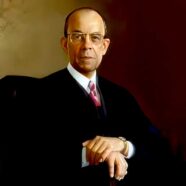 Apr

11
Tags
Related Posts
Share This
Spottswood W. Robinson III Born
April 11 in Black History: Celebrating the Legacy of Spottswood W. Robinson III
Every day holds significance in Black history, as it commemorates the achievements and contributions of exceptional individuals who have fought for equality, justice, and progress. April 11, in particular, marks the birth of Spottswood W. Robinson III, a trailblazing African-American lawyer and jurist who played a pivotal role in the Civil Rights Movement. In this article, we honor his life and accomplishments and reflect on his enduring legacy.
Spottswood W. Robinson III: A Champion for Civil Rights (1916)
Born on April 11, 1916, in Richmond, Virginia, Spottswood W. Robinson III made a lasting impact on civil rights in the United States through his work as a lawyer and jurist. Robinson earned his law degree from Howard University School of Law in 1939, where he later returned as a professor and dean. Throughout his legal career, he was a relentless advocate for desegregation and equal rights for all.
One of Robinson's most significant cases was Davis v. County School Board of Prince Edward County, a landmark desegregation case that he argued alongside Oliver Hill and Thurgood Marshall. This case was later consolidated with Brown v. Board of Education, ultimately leading to the historic 1954 Supreme Court decision that declared racial segregation in public schools unconstitutional.
In 1964, President Lyndon B. Johnson appointed Robinson to the U.S. District Court for the District of Columbia, making him the first African-American to hold that position. He continued his fight for civil rights from the bench, eventually becoming a judge on the U.S. Court of Appeals for the District of Columbia Circuit, where he served until his retirement in 1992.
April 11 serves as a reminder of Spottswood W. Robinson III's significant contributions to the ongoing struggle for civil rights and justice. By reflecting on his accomplishments and celebrating his legacy, we honor his unwavering commitment to equality and inspire future generations to continue the fight for a just and inclusive society.
The Civil Rights Act of 1968: A Milestone in Fair Housing
On April 14, 1968, President Lyndon B. Johnson signed the Civil Rights Act of 1968, also known as the Fair Housing Act, into law. This landmark legislation prohibited discrimination in selling, renting, or financing housing based on race, color, religion, or national origin. The Act represented a major victory for civil rights advocates and helped address the systemic racism and segregation that had long plagued the housing market.
The Civil Rights Act of 1968 was a direct response to the widespread civil unrest and protests that followed the assassination of Martin Luther King Jr. on April 4, 1968. The legislation's passage marked a turning point in the fight for racial equality and demonstrated the power of activism in shaping public policy.
April 14 serves as a reminder of the lasting impact of Sidney Poitier's trailblazing career and the significance of the Civil Rights Act of 1968 in the ongoing struggle for justice and equality. By remembering and celebrating these milestones, we honor the progress made in the fight for civil rights and reaffirm our commitment to a more inclusive and equitable society.
Bibliography: