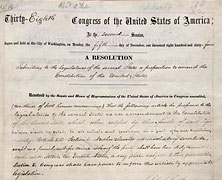 Jan

31
Tags
Related Posts
Share This
13th Amendment to the U.S. Constitution Passes by the House of Representatives
1865 – Thirteenth Constitutional Amendment passed by the U.S. House of Representatives. The amendment abolished slavery and involuntary servitude, except as punishment for a crime.  The amendment was ratified by the required number of states on December 6, 1865. The vote in the House was 121 to 24.
[wp_ad_camp_1]
[wp_ad_camp_2]1934 – Etta Moten sings for the President. Moten, famous for her signature role of "Bess" in Porgy and Bess sang for President and Mrs. Franklin D. Roosevelt at a White House Dinner. It is the first time an African American actress performed at the White House.
1962 – First Black to Command U.S. Warship – Samuel L Gravely, Jr. becomes first Black person to command a U.S. warship,the destroyer escort USS Falgout (DE-324). Gravely Jr. was a United States Navy officer, and achieved many firsts including being the first Black Naval Officer to serve aboard a fighting ship, the Black first fleet commander, and the first to become a flag officer. He retired as a vice admiral in 1980.