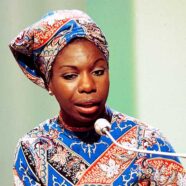 Apr

21
Tags
Related Posts
Share This
Nina Simone Dies
Remembering Nina Simone: A Tribute to the Iconic Singer and Activist on the Anniversary of Her Death
---
On April 21, 2003, the world lost an extraordinary artist and activist when Nina Simone passed away. As we mark the anniversary of her death, it is essential to celebrate her remarkable life, influential music, and unwavering dedication to civil rights activism. This blog post pays tribute to Nina Simone's lasting impact on the world.
Early Life and Musical Beginnings: Born Eunice Kathleen Waymon on February 21, 1933, in Tryon, North Carolina, Nina Simone began her musical journey at a young age. With aspirations of becoming a classical pianist, she studied at the Juilliard School of Music before her career took a different path. Adopting the stage name Nina Simone, she began performing in jazz clubs, blending various musical genres, including jazz, blues, and classical, to create her unique sound.
A Prolific Recording Artist: Nina Simone recorded over 40 albums throughout her career, showcasing her immense talent and versatility. Some of her most famous songs include "Feeling Good," "Sinnerman," "I Put a Spell on You," and "My Baby Just Cares for Me." Her captivating voice and evocative performances earned her a devoted fan base and made her an influential figure in the music industry.
Civil Rights Activism: As the Civil Rights Movement gained momentum in the 1960s, Nina Simone became an outspoken advocate for racial equality. Her music reflected her activism, with powerful songs like "Mississippi Goddam," a direct response to the 1963 bombing of a Birmingham church that killed four young girls, and "To Be Young, Gifted and Black," an anthem of empowerment for African Americans. Simone's activism extended beyond her music; she participated in civil rights events and spoke out against racial injustice.
Legacy and Influence: Nina Simone's impact on music and society is undeniable. Her distinctive sound and passionate performances have inspired countless artists across various genres, and her unwavering commitment to social justice has left a lasting legacy. The documentary "What Happened, Miss Simone?" and the biopic "Nina" are just a few examples of works that continue to tell her story and keep her memory alive.
Bibliography:
Light, Alan. "What Happened, Miss Simone?: A Biography." Crown Archetype, 2015.
Simone, Nina, and Stephen Cleary. "I Put a Spell on You: The Autobiography of Nina Simone." Da Capo Press, 1992.
Feldstein, Ruth. "How It Feels to Be Free: Black Women Entertainers and the Civil Rights Movement." Oxford University Press, 2013.