Jan

01
Tags
Related Posts
Share This
Emancipation Proclamation Signed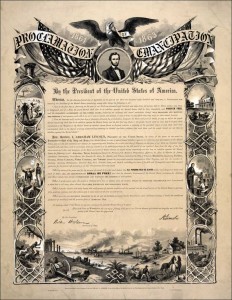 [wp_ad_camp_1]1863 – The Emancipation Proclamation, an executive order issued on January 1, 1863 during the American Civil War by President Abraham Lincoln declared that all slaves held in the 10 rebel states were freed. It resulted in almost four million slaves being freed over the course of the war.Although the Proclamation did not account for any compensation to the slave owners, it was never challenged in court. It was ratified by Congress in February 1063  and it was ratified by the states in December 1865.
The Proclamation applied only to the ten states in rebellion against the Union. Slavery was outlawed in all of the other slave holding states by other Federal and state legislation.
[wp_ad_camp_2]1997 – Kofi Annan of Ghana becomes first Black Secretary General of the United Nations, replacing Secretary-General, Dr. Boutros Boutros-Ghali of Egypt. He served previously as a Budget Officer for the World Health Organization, an agency of the United Nations and later as the Director of Tourism in Ghana. He served as the Under-Secretary-General of the United Nations before taking on the Secretary-General position, in which he served until December 31, 2006.
1808 – The Act Prohibiting Importation of Slaves of 1807, the federal law prohibiting the importation of African slaves went into effect on January 1, 1808. The act was the results of an effort to bring forward a bill by Vermont Senator  Stephen Row Bradley and provided that no slaves would be imported into the United States. The bill was signed into law on March 3, 1807 by President Thomas Jefferson and went into effect on January 1, 1808.
1831 – The Liberator Begins Publishing.
The Liberator, an abolitionist newspaper was first published by William Lloyd Garrison on this date in 1831. It was published for 35 years as a weekly publication and was one of the most influential newspaper working to end slavery in the United States.
1955 – Sister Rosetta Tharpe appeared on the Perry Como Show
On October 1, 1955, Sister Rosetta Tharpe appeared on the Perry Como Show. She performed two songs, "Up Above My Head" and "This Little Light of Mine," showcasing her powerful vocals and exceptional guitar skills. Born in Cotton Plant, Arkansas, in 1915, Sister Rosetta Tharpe started singing and playing the guitar at a young age. She quickly gained recognition for her talent and began performing in churches and revivals alongside her mother. Hercareer took off in the 1930s when she signed with Decca Records. She soon became a household name with hits like "This Train" and "Rock Me." Her fusion of gospel and secular music styles would later inspire many famous musicians, including Elvis Presley and Little Richard.
As a pioneer of rock and roll, Sister Rosetta Tharpe's influence on the music industry is indisputable. She paved the way for future generations of musicians, proving that women could be successful guitarists and bandleaders.
Sister Rosetta's performance was nothing short of electrifying. Her energy and passion resonated with the audience, leaving them spellbound. This appearance was a defining moment in her career, and it introduced her to a new generation of fans.
Sister Rosetta's appearance on the Perry Como Show helped to solidify her status as a groundbreaking musician. It also allowed her to share her unique blend of gospel and rock and roll with a wider audience, influencing future musicians and shaping the music industry.