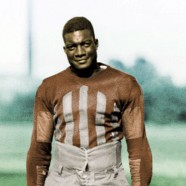 Oct

08
Tags
Related Posts
Share This
Football Player Jack Trice Dies
[wp_ad_camp_1]Jack Trice, an offensive lineman playing in his second game for what is now known as Iowa State University, died the following day, October 8, 1923, from injuries sustained during the game against the University of Minnesota. Trice was alleged to have been targeted by the Minnesota team for rough play and suffered a broken collarbone on the second player of the game. Continuing to play through the pain, he was  trampled later in the game by three Minnesota players and taken to the hospital where he died the following day. Iowa State University refused to play football against the University of Minnesota for 65 years.
[wp_ad_camp_2]The death of Trice was made even more poignant by the discovery of a letter he worte before the game in which he offered his hopes for his performance.
"My thoughts just before the first real college game of my life: The honor of my race, family & self is at stake. Everyone is expecting me to do big things. I will. My whole body and soul are to be thrown recklessly about the field tomorrow. Every time the ball is snapped, I will be trying to do more than my part. On all defensive plays I must break through the opponents' line and stop the play in their territory. Beware of mass interference. Fight low, with your eyes open and toward the play. Watch out for crossbucks and reverse end runs. Be on your toes every minute if you expect to make good. Jack."
In 1997, after persistent efforts by student groups, faculty and alumni as well as high profile public figures (including Paul Newman, Hubert Humphrey, and Nikki Giovanni) Iowa State University renamed Cyclone Stadium as Jack Trice Stadium, the first and currently the only Division 1 stadium or arena to be named after an African-American.