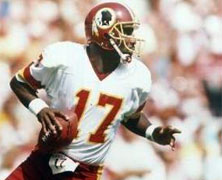 Jan

31
Tags
Related Posts
Share This
Doug Williams First Black QB to Win Super Bowl
1914 – Boxer Jersey Joe Walcott born in Merchantville, New Jersey. Walcott defeated Ezzard Charles via knockout in the 7th round of their July 18, 1951 title bout in Pittsburgh, Pennsylvania to win the World Heavyweight Championship. After retiring from boxing, Walcott refereed several boxing matches including the controversial second fight between Muhammad Ali and Sonny Liston and later was the chairman of the New Jersey State Athletic Commission.
[wp_ad_camp_1]
1919  – Jackie Robinson born in Cairo, Georgia. Robinson starred in four sports at UCLA, playing leading the conference in scoring in basketball, returning kickoffs for touchdown in bowl games, setting collegiate records in track as well as playing baseball. He was most noteworthy for breaking the color barrier in Major league Baseball, on his way to winning the Rookie of the Year award and later being named league MVP and elected to the Baseball Hall of Fame in 1962. Eventually, his number (42) was retired throughout MLB. (To read more about Jackie Robinson, view his profile at greatblackheroes.com).
[wp_ad_camp_2]1931 – Baseball star Ernie Banks born in Dallas, Texas. Banks starred as a Major League Baseball player for the Chicago Cubs.  Nicknamed "Mr. Cub," he was a 14 time All-Star and hit 521 home runs over his career. He retired in 1971 and was elected to the Baseball Hall of Fame in 1977.
1988 – Washington Redskins quarterback Doug Williams leads the team to a Super Bowl victory. Williams was named the Super Bowl XXII Most Valuable Player, passing for a Super Bowl record 340 yards and four touchdowns. Williams attended Grambling State University and was a first round pick by the Tampa Bay Buccaneers.
After playing in the United States Football League for two seasons, Williams was signed by the Redskins as a backup. He got his opportunity when the starter was injured and led the team to playoffs and then the Super Bowl. He was pelted in the pre-game press circus with questions about the significance of his being a Black quarterback and then had to endure a six-hour root canal surgery the night before the game. After being injured in the first quarter of the game, Williams returned and threw four touchdowns in the 2nd quarter, leading the team to a 42-10 victory. four touchdowns in a half, and the only quarterback to throw for four touchdowns in a single quarter. Williams is now a team executive for the Redskins, being hired for that role in 2014.