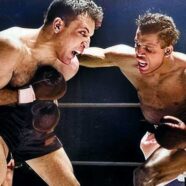 Apr

12
Tags
Related Posts
Share This
Sugar Ray Robinson Fights Jake LaMotta
April 12 in Black History: Sugar Ray Robinson and the Fight of the Century
Each day holds significance in Black history, with numerous achievements and contributions made by exceptional individuals who have fought for equality, justice, and progress. April 12 stands out as a landmark day in the world of sports, as it marks the date of the "Fight of the Century" featuring legendary African-American boxer Sugar Ray Robinson. In this article, we honor Robinson's life, accomplishments, and the historic fight that took place on April 12, 1951.
Sugar Ray Robinson: A Boxing Legend (1921-1989)
Born Walker Smith Jr. on May 3, 1921, in Ailey, Georgia, Sugar Ray Robinson is considered one of the greatest boxers ever. With a career that spanned over 25 years, Robinson earned numerous titles and accolades, including six world championships in the welterweight and middleweight divisions. His agility, speed, and powerful punches captivated fans and opponents alike, earning him the nickname "Sugar."
The Fight of the Century: Robinson vs. LaMotta (April 12, 1951)
On April 12, 1951, Robinson faced off against the formidable Jake LaMotta in what became known as the "Fight of the Century." The bout at Chicago Stadium was their sixth and final encounter. Robinson emerged victorious, securing the World Middleweight Championship title and solidifying his reputation as a boxing legend.
Beyond the Ring: Philanthropy and Civil Rights
Sugar Ray Robinson's impact extended beyond the boxing ring, as he used his fame and influence to support civil rights and philanthropic causes. Robinson was a vocal supporter of Martin Luther King Jr. and donated thousands of dollars to the Southern Christian Leadership Conference. He also established the Sugar Ray Robinson Youth Foundation, which provided financial support to underprivileged children and funded various community programs.
April 12 serves as a reminder of Sugar Ray Robinson's incredible achievements in the boxing world and his commitment to civil rights and philanthropy. By remembering and celebrating his accomplishments, we honor his dedication to positively impacting society and inspire future generations to strive for greatness.
Bibliography: