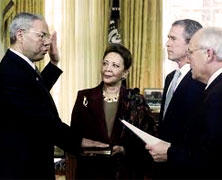 Jan

20
Tags
Related Posts
Share This
Colin Powell Named Secretary of State
[wp_ad_camp_1] 2001 – First Black Secretary of State
Colin Luther Powell is sworn in by President George W. Bush as Secretary of State. He is the first black secretary of state in U.S. history.
1977 – William T. Coleman Steps down as Secretary of Transportation
On this date William T. Coleman stepped down Secretary of Transportation. Coleman was an attorney and civil rights activist. He was the first Black to serve as a Supreme Court law clerk, working for U.S. Supreme Court Justice Felix Frankfurter in 1948. He was appointed as the Secretary of Transportation by President Gerald Ford in 1975.
[wp_ad_camp_2]1986 – Ronald McNair
On January 20, 1986, Ronald McNair (1950-86) was the first black astronaut killed during a space mission, when the space shuttle "Challenger" met with disaster. McNair, a Ph.D. from the Massachusetts Institute of Technology, was assigned to the shuttle "Challenger" which blew up shortly after take-off.
1947 – Josh Gibson Dies
Baseball's Josh Gibson Negro league star/National League Hall of famer dies on this day.